Gertrude Ederle was 19 in 1926 when she became the first woman to swim across the Channel. Her 13 and a half hour time took 24 years to beat. She never married and died aged 98.
Rachel Mars, performing at Phenomenal People, Southbank Centre, Saturday 10 March.
Rachel Mars is a performer, writer and producer working in theatre, live art and comedy. She has performed around the UK, in theatres, hotel corridors and toilets. Her work explores cultural, familial and queer identities, and the bizarre and surprising nature of human connection. She is one half of Mars.tarrab, Associate Artists at the Barbican Theatre, Plymouth.
She is an inspiration because she has not let her alopecia stop her from becoming a world class cyclist.  I saw her win two gold medals for Great Britain, on the same day I wore my wig for the first time. (I also have alopecia.)
I do not know Karen nor will I likely ever meet her but she is one of the very few (around 2 dozen) through hikers who had completed the Triple Crown of Hiking; the Pacific Crest Trail (2,650 mi), the Appalachian Trail (2,184) and the Continental Divide Trail (3,100 mi). Adding the lengths of these three National Scenic Trails comes to 7,400 miles. Together they include more than 1,000,000 feet of upward climb. The three trails traverse 22 states.
Very few people have completed the Triple Crown as a through hiker and Karen is one of those very special individuals. She is a renowned outdoor adventure writer and athlete, she is very inspiring for this old man who also loves to hike.
Helga Estby is my great-great-great grandmother. She was a passionate suffragette and adventurer. She, along with her daughter Clara, walked across the United States from Spokane, WA to Brooklyn, NY in 1896. The walk was a contest that would pay $10,000 if they completed the trek in seven months. The women undertook the journey in order to save their family farm. The trip was unsuccessful (they arrived two weeks late and were not awarded the prize), and Helga faced rejection by her family and community when she returned home. Her family refused to let her speak about the trip, and they destroyed the journals and notes she kept on the walk. Helga's story was preserved by the oral tradition of my great-grandmother, who shared Helga's adventures with her children and grandchildren. Unlike so many histories that belong to women, Helga's story escaped the death of silence. She inspires me to live with boldness and to participate in the act of telling and preserving women's stories.
First black woman tennis player to be world number one in the modern era.
Read more about William's sporting achievements in The Guardian's 2011 Top 100 Women in Sport feature.
Diagnosed with diabetes at 13, she is now a keen athlete.
Swims around public baths in London and blogs about it.
Learn more about Landreth, and this project, on her witty blog.
Single-handed record breaking round the world yachtswoman.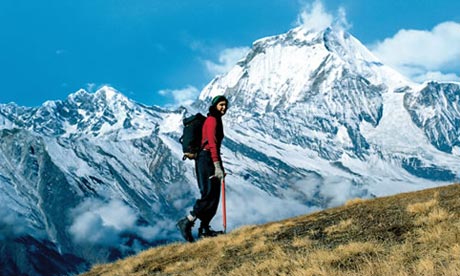 First American woman to attempt climbing Everest.
Read more about here in The Guardian's Top 100 women in sport here.