Incredible photographer and model, she lived an extraordinary life, brave, creative and intelligent.
Explore the V&A exhibition which commemorated her life and work
Iris Apfel will be ninety years old this year. An interior designer by trade, she's now famous for her fashion sense, which has been honoured by the Metropolitan Museum of Art and imitated by many fashion designers.

While being chic may not seem like an end in itself, Apfel's fabulousness makes all sorts of important points. Not only does she look like she is very brilliant fun, but she challenges lots of norms about how older women should dress and what attractiveness means. A picture of Iris Barrel Apfel isn't easily mistaken for one of any other woman; she doesn't stand side on to the camera to look thin or look coquettishly over her shoulder. She's magnificently herself, and she looks like she's having a very good time.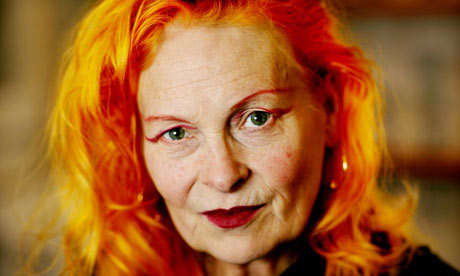 Her work moved me to tears at the V&A retrospective with its amazing beauty and understanding of women. Who knew a few dresses could do that?
Sandy Lerner is an inventor and rebel at the same time. She's the co-founder of Cisco Systems, which impresses me. It makes me think of her as a woman who's done a lot to pave the way for female computer engineers. As Cisco grew she became surrounded by more and more businessmen who ended up firing her in 1990. She then founded the cosmetics company, Urban Decay, with the tag line ""does pink make you puke?" - which had me completely smitten. What a rebel yell! It became a great success, of course and now she runs a sustainable farm. She really awes and inspires me!
I was christened when i was 10 years old, the only benefit of this was allowed to add a name  - being typically me i chose two, Elizabeth and Scarlett - the first being after Queen Elizabeth I and the second after Gone With The Wind. The phrase 'i will never be hungry again' hit home at a very young age.  I think i cottoned on to the idea of Feminism before i actually knew what it was. I chose these names as an early expression of this, i respected these women so much i adopted their names that by the proximity i would be more like them. I later added Margret Thatcher to my list of heroines, this has always been a controversial topic of conversation, one that men seem to get very agitated over. I am not politically active as i think most of  'Politics' is a big game,  so i don't look at Maggie's policies, more at her achievement to be the first working class woman ever to politically run a country, without even having to get her tits out. imagine that.
 Grace Woodward is a celebrity fashion stylist and television presenter best known as her role on the judging panel on Britain's Next Top Model.  Woodward regularly works as an editorial stylist with The Sunday Times Style Magazine, Elle, Flaunt, Harpers Bazaar and Nylon.
Iconic British fashion designer.
Listen to Westwood's appearance on Radio 4's Desert Island Discs in 1992.
Launched the first modeling agency dedicated to bridging the gap between the industry standards for "Straight Size" and "Plus Size" divisions.
Read about her body image campaign in this Teen Vogue article.
Creative director of American Vogue.
Watch Coddington being interviewed, after winning the Isabella Blow Award for Fashion Creator 2011.
Influential and iconic French fashion designer.
Learn more about what drove this remarkable fashion designer, in this episode of Radio 4's Woman's Hour.